Greetings!
Welcome to Between the Trapezes! Often the changes in our lives feel precarious as we are suspended between two certainties. But the frightening moment passes as we bravely go on to the next step -- as we always do.
Enjoy reading, and feel free to forward this e-zine on to anyone, wherever they are job searching! And if you received this e-mail in error, our apologies -- just unsubscribe using the easy link at the bottom of this page.
Joanne

<![if !supportLineBreakNewLine]>
<![endif]>
LinkedIn: Advanced Tips
Here are some suggestions from Forbes columnist Guy Kawasaki about more effective use of LinkedIn, a highly valuable online tool for job seekers.

For example, make your LinkedIn profile public so that hiring managers can find you by title or skill.

Also, change the link that leads others to your profile so that it includes your name. This enables Google to find you more readily. Why not make your profile easy to find by a company that's doing an Internet search on your name? Your LinkedIn profile is almost a miniresume, so put yourself above the radar.
Next, check on companies themselves by searching on LinkedIn for the person who had the job you're now interviewing for. Uncheck the "current titles only" option while doing this, so that you can find people who are there now or who used to be. Those people can tell you a lot about the company, and about the team and manager.
Another tip is to use LinkedInís advanced search features "to find people with educational and work experience like yours to see where they work. For example, a programmer would use search keywords such as 'Ruby on Rails,' 'C++,' 'Python,' 'Java,' and 'evangelist' to find out where other programmers with these skills work."
If you aren't already using this tool, give it a try. You have only one thing to lose: your anonymity.

<![if !supportLineBreakNewLine]>
<![endif]>
HR is Training Hiring Managers
HR is increasingly known within companies as the Talent Acquisition and Retention center. In other words, it's no longer the HR of old, busy only with compliance paperwork. While paperwork is indeed a part of what they do, their role is now viewed as vital in getting the right people into the company or organization, and therefore increasing the bottom line.

Result: Today, you must be prepared for the behavior-based interview. This is the dominant interview "style" used by companies today, and since HR is training hiring managers to interview this way, it's in your best interest to know what to expect. They use this method because it more accurately gets them to see if you really have the talents and skills they need to get the job done.
While we could spend this entire space on behavior-based interviewing, let's just say it's focused on you providing examples about your strengths and achievements. In short, interviewing isn't about the interviewer's gut feel any more: instead, you need to perform.
The cost of a bad hire -- whatever the reason -- is enormous. If someone ends up being a "wrong hire", then the whole organization suffers, because it's estimated that it costs three times that job's salary to re-do a search for the right person to fill it. That loss is in hard dollars spent on salary, benefits, bonuses, relocation packages, and so forth, not to mention lost time spent by those who interviewed you.
For more about today's interview, and to get some practice at it, join us at Face2Face this Wednesday, February 7th, when Joanne Meehl will address New Secrets of Interviewing. February is Interviewing Month at Face2Face so our Feruary 21st program will also focus on this vital aspect of your search.

<![if !supportLineBreakNewLine]>
<![endif]>
Exciting Changes, and New Address
This month marks our fifth year in business, helping people get the jobs they want. Each year has shown increasing success, and we're very grateful!

As we looked at our 2006 stats, we discovered that even more clients than we realized are from the area along 495.

So for greater convenience, we now have a location in Westborough, at 1900 West Park Drive, Suite 280. This office building, on the same road as the University of Phoenix and NationalGrid buildings adjacent to Route 9, is close to everything. We hope to see you there!
Stay tuned to this space to read more about new services and new packages for those managing their careers.
Thought of the Day
<![if !vml]>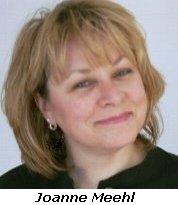 <![endif]>
The big question we still have to ask is not where we're going [when we die], but what were we doing here in the first place?

Art Buchwald
_________________________

We are proud members of:
Association of Career Professionals Int'l

Northeast Human Resources Association

Career Counselors Consortium/Boston

Massachusetts

Women in Technology

Career Planning and Adult Development Network

National Resume Writers Association

BNI, Holden, Mass.
Called "The Resume Queen" years ago by a career counselor colleague, Joanne Meehl decided to have fun with the nickname (which we've officially trademarked). But she also takes it seriously by keeping her career management skills on the leading edge, through research and ongoing dialog with hiring managers.
________________________

Next Meeting of Face2Face, the Job Search Networking Group:

Wednesday, February 7th, 9am - noon, in Boxboro, Mass.

Topic: New Secrets of Interviewing, presented by Joanne Meehl, Facilitator. Learn what HR and hiring managers are up to today. For details about the program, and directions, click here. Also on this page, you'll be able to see notes about previous speakers at Face2Face.
At Face2Face meetings, we make it easier for you to network, no matter how shy you are. Come meet new people who might be the link to your next job!


<![if !supportLineBreakNewLine]>
<![endif]>