Every thought is a seed. If you plant crab apples, don't count on harvesting Golden Delicious.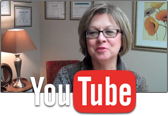 Next Face2Face Mpls
meeting is this Thursday, Sept.10th!
Topic: "How to Manage AND Reduce Stress"
Career Tip from Joanne:

Networking is a two-way street. When you have a networking meeting, go prepared to give something that the other person can use: an idea, an article, a link, a name, a thank-you for something they've done for you.

By giving, you receive.