March 2018
Welcome to the March 2018 Treasury showing you how you can direct your job search, manage your career, or work as a consultant -- with content you can use now.
Sometimes a job search feels like you're a cat stuck in a tree. But look around: do you see cat skeletons in trees? Of course not. One thing or another brings them down, either hunger or loneliness or a kind human.
In the same way, if you do not let your search flag, if you keep on in a consistent, determined way, helping others as you seek help, you WILL land the next, right job for you.
- Joanne Meehl, aka The Job Search Queen -
With
15 years
guiding job searches
and advising professionals on career strategy!
Motivation: 4 ways to fan your own flame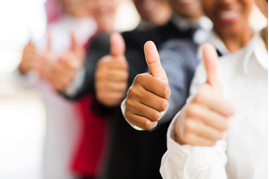 Who hasn't said, after a meeting or watching a TED Talk or hearing a great quote: "Wow, that's so motivating!"
Sure, external stimuli can spark you to action. But it
'
s the internal spark that lasts. If "motivation" is defined by Webster in part as "
a force or influence that causes someone to do something", then it stands to reason that you can motivate yourself when it begins to feel like you
'
re stuck. And
when
it comes to the ups and downs of job search, there are a few ways you can do this:
1. Review your successes and remind yourself you are still able to create new ones. You have the knowledge and achievement behind you and now will flourish in a new platform. Doubt this? Reread your great performance reviews from previous positions!
2. Sit down with the people serving as your references, if you haven
'
t done so lately. THEY will remind you how great you are!
3.
If you feel
stalled
, find out why, and how to un-stall yourself.
The usual causes of "stall":
"I don't know what I want to do": Perhaps you do and are hesitant to follow your dream, or perhaps you need to do career research to explore and decide on options

You're really comfortable with the status quo

Disorganization: Get coaching or other help to organize your search and all activity

Depressed: Get help with this from professionals with this health expertise
4. Surround yourself in general with
positive, supportive people who remind you that you're on the road to success. Avoid the "Captain Bringdowns" who are always pointing out problems.
Those 4 ways of reigniting your motivation will make you feel less like you are the cat stuck in the tree. In fact, these methods will help you get yourself down from the tree and in the running again.
_______________________________
FREE DOWNLOAD:
Are you an older job seeker who's been told to use a functional resume? NO, don't. For the many reasons to NOT use a functional resume,
click here
.
No one can make you feel inferior without your consent.
Your career is the treasury of your life.
Joanne Meehl
featuring the Give & Get networking half of the meeting, then we'll hear speaker WES ROPER, our co-fcilitator, on Networking for Dummies. Don't feel like you know how to network? Neither did Wes, but then he used a method that's enabled him to meet 1,200 people, 1:1, in a year. Come hear how he did it!
Useful Links:
Joanne's latest at Forbes.com
Networking AND in job search? Then be sure to hang out with the employed,
not
just other job hunters.
Here are several reasons why,
as Joanne writes on Forbes.com, hot off the press!
And in case you missed it,
here is
Joanne's comment in the Forbes.com article,
In Job Search? 15 Tips on Using LinkedIn
. Lots of ideas here!
Joanne Meehl has been a member of the invitation-only Forbes.com Coaches Council since 2016.