Treasury Store: Your Personal Time with Joanne
Thank you for visiting The Store, where you can book time 1:1 with Joanne!
YOUR CHANCE TO TALK WITH JOANNE 1:1
Add to your cart any of the items directly below.
Want a great resume fast? Talk with Joanne and edit your resume so that day it starts getting you interviews (increasing the numbers of interviews is typical for her clients).
Your LinkedIn is doing little or nothing for you? Talk with Joanne and make changes that day that will attract double the clicks you did before (as reported by clients).
Want to know how to really do Referral Networking, without changing your personality? (Tip: you won't be doing "informational interviewing" because there really is no such thing)
See below for more options that help you!
Check this page often for new items, or follow Joanne via her monthly newsletter or on Twitter -- @JobSearchQueen1 -- to get updates on new offerings.
Time for you with Joanne
Expertise You Can Download
1 Guide
PDF Download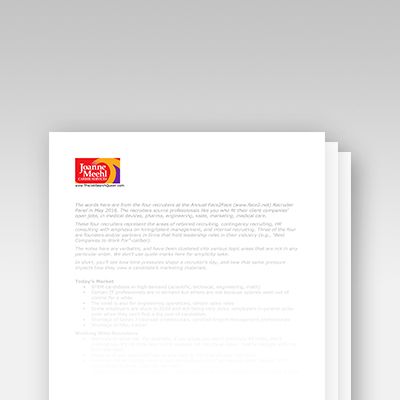 Be Prepared for a Layoff (PDF Download)
More Info
Fee: $0.00
Any time of year can be 'layoff season'.  What should every serious career-minded person do to be prepared should this happen to you?